Volunteers are the driving force of Pyunic. Since its inception numerous volunteers have been working for the organization and were involved in all activities we do. They helped with organizing, promoting and preparing activities for kids and youth with disabilities. They have many opportunities to realize their own activities and small projects.
Pyunic's success is primarily depending on the work of its volunteers. Hundreds of them have the same vision as Pyunic and supported and continue tsupport to the implementation of projects and services of the organization.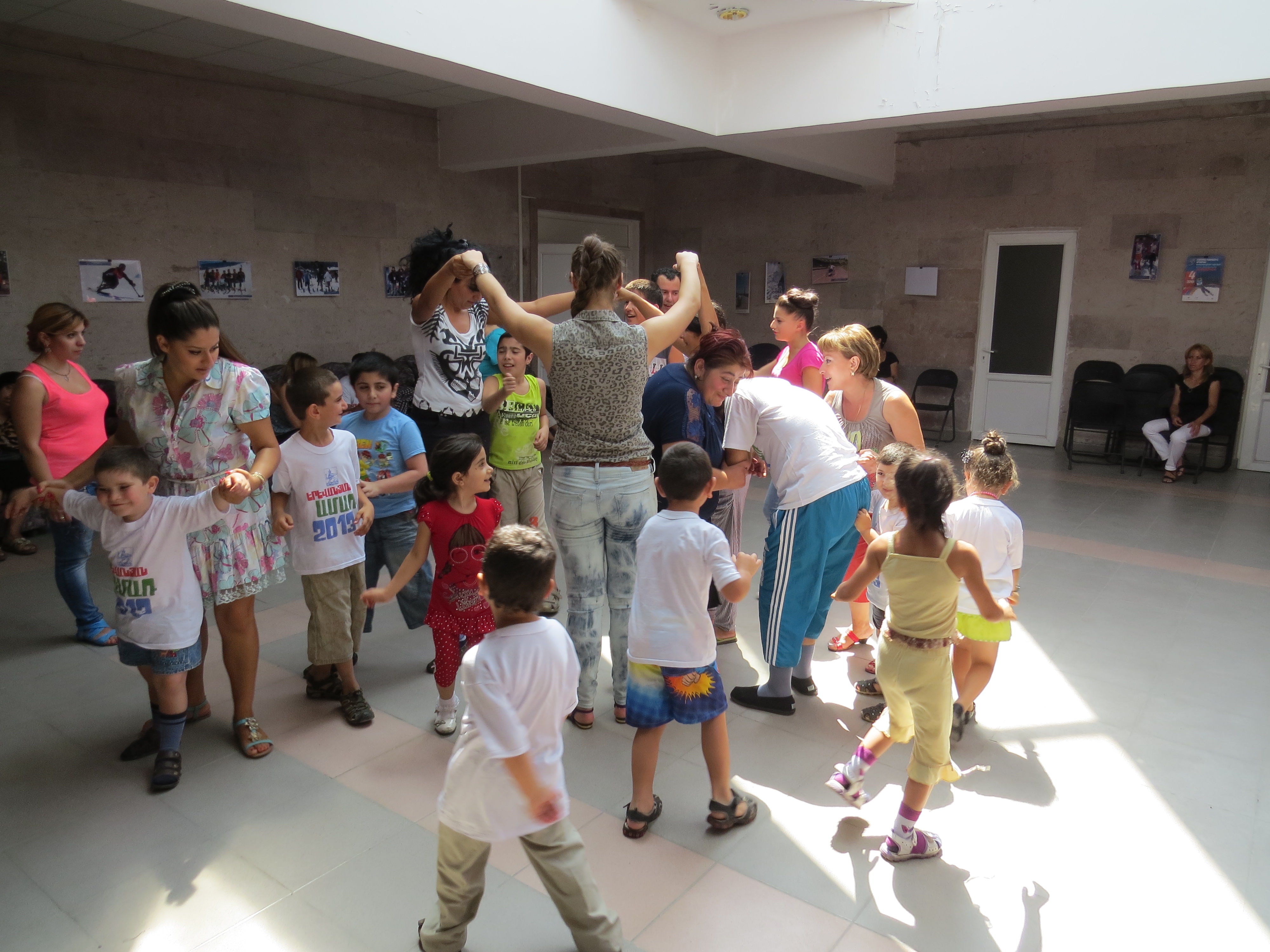 The organization constantly needs volunteers who are creative, dedicated and ready to work with children and youth with disabilities.
Below is the list of volunteers who have had input in the successful implementation of Pyunic's projects.
Patrik Modave, Kristine Baghdasaryan, Andranik Aleksanyan Karen Balalyan Boris Meramejyan, Arman Babayan, Tigran Durgaryan Gayane Paytyan Boris Vasilyan Hmayak Tarakhchyan, Alina Vardanyan, Narine Hovhannisyan , Ofelya Grigoeyan, Siana Grigoryan, Stella Grigoryan, Armine Harutyunyan, Arayik Antonyan, Artur Hovakimyan, Armen Hovakimyan, Samvel Rostomyan, Armine Simonyan, Arsen , Onik Kheranyan Shahinyan, Ara Hayrapetyan, Rita Voskanyan, Heghnar Hambardzumyan, Narine Nersisyan, Margarita Ter- Hovhannisyan, Hermine Paytyan, Nelly Melqonyan, Karen Nazaryan, Margarita Bazukyan, Hasmik Khorikyan, Sona Sahakyan, Eleonora Aghanikyan, Zubeida Meliqyan, Lilit Voskanyan, Elena Sardaryan, Elena Sardaryan, Anahit Martirosyan, Lukas Wesler. Anahit Harutyunyan, Marina Etibaryan, Narine Barseghyan, Nune Petrosyan, Nune Mnatsakanyan, Gohar Poghosyan, Rafik Nerkararyan, Shoghik Harutyunyan, Meri Grigoryan, Evgine Vardanyan, Alina Hambardzumyan, Lian Hovhannisyan, Armine Mkhitaryan, Artak Lalayan, Gayane Abgaryan, Arevik Makhakyan, Heghine Muradyan, Vahram Tokmajyan, Hrayr Andreasyan, Lilit Sahakyan, Tatevik Mkrtchyan, Tigran Mkrtchyan, Maria Poghosyan, Harutyun Aivazyan, Gor Vardanyan. Elina Gevorgyan Nare Hakobyan, Vardan Mirumyan, Davit Sargsyan Roza Grigoryan Liana Badalyan, Arevik Sahakyan, Alvard Khachatryan, Lucine Harutyunyan, Eva Martirosyan, Ashot Grigoryan, Hrant Mkrtchyan, Gor Grigoryan Marat Harutyunyan Narek Iskandaryan, Levon Hovhannisyan, Anahit Ghukasyan, Alla Mirzakhanyan, Emilia Sargsyan, Ani Gevorgyan, Ani Makyan, Hasmik Hakobyan, Aghavni Madoyan, Hasmik Dolmazyan, Gayane Hakobyan, Narine Davtyan, Marine Davtyan, Anna Engibaryan, Nvard Margaryan, Rimma Avoyan, Mariam Hakhnazaryan, Marine Harutyunyan, Hasmik Grigoryan, Siranush Jeyranyan, Gor Tumanyan, Serzhik Nersisyan, Ofelya Serobyan, Martik Sarhadyan, Tatev Tiratsuyan, Vasil Shahnazaryan, Davit Tonoyan, Mariam Harutyunyan, Varduhi Buchakhchyan, Araz Gaymaganyan, Aram Grigoryan, Hakob Marzpanyan, Marine Ohanyan, Abel Avagyan, Hovhannes Karapetyan, Raffi Rshtuni, Anna Mkrtchyan, Mariam Badalyan, Agapi Nazaryan, Anush Vahany an, Aleks Torosyan, Simon Asatryan, Mariam Arshaviryan, Artur Aroyan, Alla Hakobyan, Hasmik Hrutyunyan, Ani Araqelyan, Hasmik Vardanyan, Aghunik Vardanyan, Anush Mirzoyan, Sona Araqelyan, Susanna Saponjyan, Susanna Petrosyan, Anush Nersisyan, Ruzanna Sargsyan, Nane Kostanyan, Marine Virabyan, Diana Ghazaryan, Alvard Mesropyan, Anahit Davtyan